Apple Popsicle Stick Frame
Cherish the start of a new school year with your child by creating a homemade apple-shaped picture frame to hold their back-to-school photo!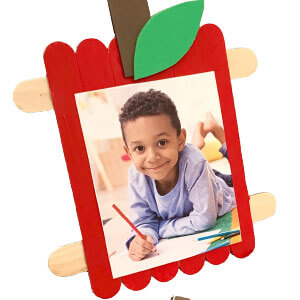 Materials
8 large popsicle sticks
Hot glue gun
Red acrylic paint
Paintbrush
Green and brown heavy construction paper
Adhesive magnets
Directions
Place six popsicle sticks in a row.
Glue two popsicle sticks to each end of the frame to hold the popsicle sticks together.
Flip the glued popsicle sticks over and paint the frame red. Let dry.
Cut out a green leaf and a brown rectangle for the apple's stem.
Use the hot glue to attach the leaf and stem to the top of the frame.
Attach the magnets to the back of the frame.
Tape or glue your child's photo in the center of the frame.