Banana Snowmen
Bundle up and enjoy a delicious, health snack on a snowy afternoon this winter. This Banana Snowmen recipe is both filling and fun to put together with your kiddos. After enjoying your treat, head outside and build a real snowman!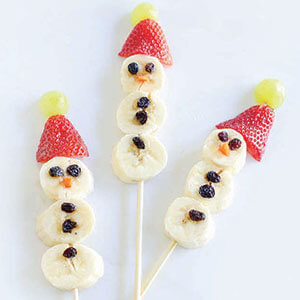 Ingredients
2-3 bananas
1/4 carrot
3 strawberries
6 grapes
6 skewers
Handful of raisins
Directions
Cut bananas into thick slices to use as the snowmen's bodies.
Cut carrot into small, triangular pieces to use as the snowmen's noses.
Cut stems off of strawberries, and then cut them in half (to resemble triangle hats).
Cut grapes in half to resemble the tops of stocking caps.
Slide three slices of banana on each skewer, followed by a strawberry hat and a grape.
Gently push raisins onto the banana slices as buttons and eyes, and the carrot pieces as noses.