Beach Pudding Cups
Beachy and delicious, this summer treat will have you
feeling happy as a clam!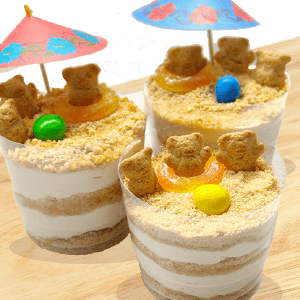 Ingredients
Vanilla Instant Pudding
Graham crackers
Clear blue or green plastic cups
Mini umbrellas
Teddy bear snacks
Peanut M&M's
Directions
Prepare pudding according to the package instructions.
Place graham crackers in blender and blend into crumbs (consistency will look like sand!).
Alternate layers of pudding and graham crackers in each cup, being sure to have a layer of graham cracker "sand" as the top layer.
Decorate with an umbrella, teddy bear snacks, and a peanut M&M "beach ball."
Chill in fridge for one hour.
Mix blue food coloring into the pudding to create an extra-blue water effect!