Beach Scene Vanilla Pudding Cups
Combine some of your kiddo's favorite snacks for a fun, tasty treat that will get them excited about the summer sun! These treats are perfect for a picnic, snack time, or dessert.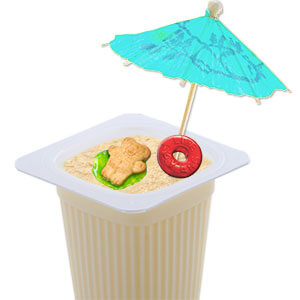 Ingredients
Vanilla pudding cups
Graham crackers
Teddy Grahams
Life Saver Gummies
Airhead Xtreme Bites
Drink umbrellas
Directions
Crush your graham crackers until it resembles sand.
Pull the tops off of your pudding cups and fill them with the crushed graham crackers.
Place one Teddy Graham on an Airhead Xtreme Bite and put it in the "sand" for each cup.
Stick an umbrella into the "sand" in each cup.
Put a Life Saver Gummy next to each umbrella.
Enjoy these sweet beach treats in the sun!
If vanilla pudding isn't your child's favorite, don't be afraid to try chocolate, butterscotch, or even tapioca!