Cinnamon Sugar Snowflakes
Winter is here, and snowflakes are flying! This simple recipe is a perfect, warm wintry treat on a cold day.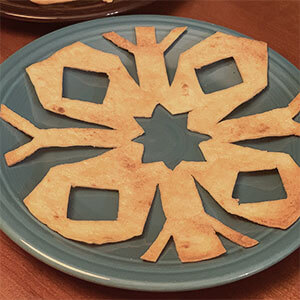 Ingredients
Tortilla shells
Butter, melted
White sugar
Cinnamon
Directions
Microwave tortilla shells for about 10 seconds to soften.
Fold a tortilla in half and then in half again. Using a scissors, carefully cut the shell like a paper snowflake.
Place tortillas on a baking sheet, and use a basting brush to top with melted butter.
Sprinkle each tortilla with sugar and cinnamon.
Bake at 350°F for 5-10 minutes or until crisp. Let cool before serving.