Colorful Fall Tree
Fall is in the air—the changing leaves and beautiful autumn colors often become a source of inspiration for arts and crafts, suggested books for reading, and even snack ideas!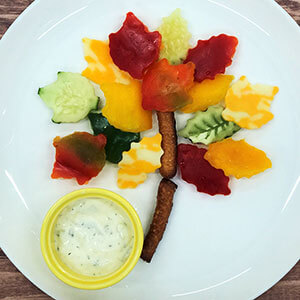 Ingredients
Red, orange, and yellow pepper slices
Cucumber slices
Marble cheese slices
Pretzel sticks
Mini leaf cookie cutter
Dressing for dipping (optional)
Directions
Using a mini leaf cookie cutter, cut leaf shapes out of the peppers, cucumbers, and cheese.
Place pretzel sticks on the plate, and arrange the leaf shapes around the pretzels to make a colorful tree.
If desired, serve with dressing for dipping.