DIY Snow Globe
Create a homemade snow globe to add to your wintry decor collection. Enjoy the DIY craft as one of your favorite toys takes in the snowy atmosphere!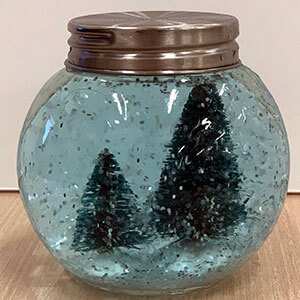 Materials
Heavy-duty glue
Small toy
Needle-nose pliers
Small jar with lid
Glycerin
Fine glitter
Directions
Add heavy-duty glue to the bottom of a small toy.
Use a needle-nose pliers to lower the toy into the jar and press down firmly until it's in place. Allow glue to fully dry.
Fill the jar with water. Add small drop of glycerin and a pinch of glitter.
Use heavy-duty glue to glue the lid onto the jar. Allow glue to fully dry.
Flip, shake, and marvel at your new homemade snow globe!