Earth Day Snack
Celebrate Earth Day this month with a fun and delicious treat that helps teach kids about the water and land that make up our planet Earth!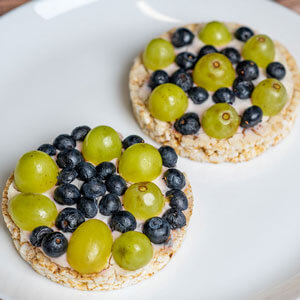 Ingredients
1 (8-ounce) package of cream cheese
1 tablespoon sugar
1 teaspoon vanilla
1 package of rice cakes or unfrosted cookies
1 cup blueberries, cut in half
1 cup green grapes or kiwi, cut in half
Directions
Mix the cream cheese, sugar, and vanilla in a small bowl.
Spread the sweetened cream cheese mixture onto the rice cake or cookie.
Create the Earth by placing the blueberries for the water and the grapes or kiwi for the land.