Easy No-Bake Bird Feeders
Birds need food throughout the year to survive migration and the cold Minnesota weather. Hang your bird feeder on a tree branch or pole near a window and watch the birds enjoy their winter feast!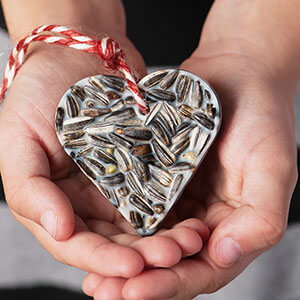 Materials
2 tablespoons coconut oil
Mixing bowl
1 cup birdseed
Spoon
Cookie cutters (variety of shapes)
Metal baking sheet
Straw
Ribbon
Directions
Scoop the coconut oil into a bowl. Place in the microwave for 20 seconds or until melted.
Combine the birdseed with the melted coconut oil, and stir well.
Place the cookie cutters on a metal baking sheet. Scoop and press the birdseed mixture softly into the cookie cutters.
Gently push a straw into the birdseed to make a hole for the ribbon.
Place the baking sheet in the refrigerator for 30 minutes or until hardened. String the ribbon through the hole for hanging.
Hang in a tree for the neighborhood birds to enjoy!