Foil-Printed Fall Tree Art
With the end of summer comes an array of beautiful red and orange leaves! This project is a great way to talk about how trees transition from summer to fall. Simply use some aluminum foil and paint to make fall tree paintings with your kiddo!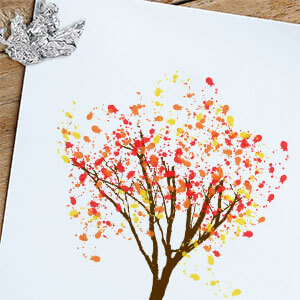 Materials
Aluminum Foil
Red, orange, yellow, and brown paint
2 paper plates
White construction paper
Directions
Crumple up a piece of aluminum foil.
Pour red, orange, and yellow paint onto a paper plate so the colors nearly touch.
Dip the piece of foil in the paint color of your choice. The more colors, the better!
Dab the foil on the piece of paper, creating a foliage of leaves.
Use your finger to create a tree trunk and branches with the brown paint.