Fruit Salad with Vanilla Pudding
Create this delicious and nutritious salad with your kids as a refreshing dessert or a side dish for brunch.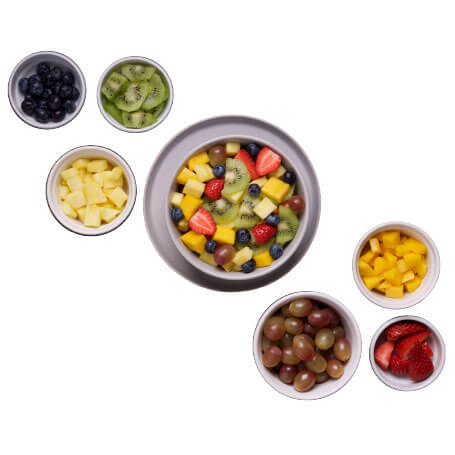 Ingredients
1 20-ounce can pineapple chunks in juice
1 cup sour cream (regular or low-fat)
1 package instant vanilla pudding mix
2 1/2 cups red seedless grapes, sliced
2 cups fresh strawberries, sliced
1 cup fresh blueberries
1 cup fresh kiwi, sliced
1 cup fresh mango, sliced
Directions
Drain the pineapple chunks and refrigerate. Reserve 3/4 cup of the pineapple juice in a measuring cup.
Mix the pineapple, sour cream, and instant vanilla pudding in a small bowl. Cover and refrigerate for 1 hour.
Toss the grapes, strawberries, blueberries, kiwi, mango, and pineapple chunks together.
Place the fruit salad in a serving dish and spoon the chilled pudding mixture over the fruit salad.