Fun Corner Bookmarks
Attention bookworms! In honor of "I Love to Read Month," try this simple craft to make your very own corner-page bookmark.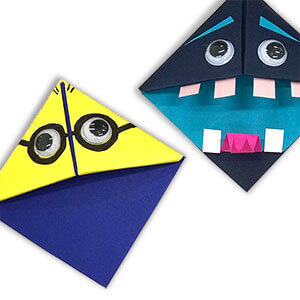 Materials
Lightweight construction paper in assorted colors
Ruler
Scissors
Stickers or other embellishments (optional)
Glue (optional)
Directions
Cut a 6x6 square out of lightweight construction paper. Fold the paper in half, corner to corner.
Fold one end of the triangle up to the top of the triangle. Repeat on the other side.
Open the triangle and fold the center of the top flap to the bottom.
Tuck the right corner into the middle "pocket" flat. Repeat with the left corner.
Rotate the bookmark so the "pocket" is at the to. Using construction paper, stickers, or other embellishments, create a character for your bookmark. Cut out eyes, hair and teeth... get creative!