Plastic Bottle Piggy Banks
Who says recycling can't be fun? Transform an empty plastic bottle into an enjoyable way to save up your spare change!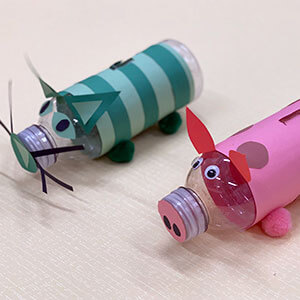 Materials
Plastic bottle
Scissors
Construction paper in various colors
Glue
Googly eyes
Pom-poms
Directions
Before you begin, make sure the bottle is empty and dry and labels are removed.
With an adult's help, cut a coin-sized opening about mid-way down on one side of the bottle.
Decorate your piggy bank with construction paper or googly eyes. Be creative—give it ears, eyes, or a tail!
For feet, glue four pom-poms on the opposite side of the bottle as the coin opening.
Start saving your coins and make your first piggy bank deposit!