Popsicle Stick Flag
Show your patriotism and celebrate Independence Day with a homemade, kid-friendly craft—fun for all ages!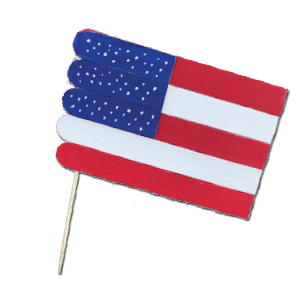 Materials
Popsicle sticks
Red, white, and blue paint
Paintbrush or sponge
White decorative stars (stickers or paper star punch)
Thin stick
Glue
Directions
Paint three popsicle sticks red, two white, and two blue. Allow them to dry completely.
Start creating the flag with the painted popsicle sticks by alternating the red and white sticks. You will need one plain, thin stick to serve as your flagpole.
Cut the blue sticks in half. You will need three halves.
Glue the blue sticks to the upper left corner of your flag.
Add or glue white stars to the blue section in the upper left corner. You can use stickers or a paper star punch on white paper.
Glue the thin flagpole stick to the back of the flag for a handle.
Allow to dry completely before using.