Rice Crispy Maracas
Shake your way into the new school year with this music-inspired treat!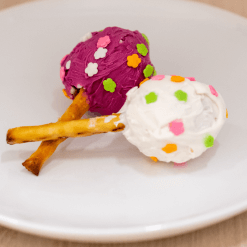 Ingredients
Rice crispy treats (store-bought or made according to package instructions)
Mini chocolate candies
Large pretzel rods
Chocolate melts in various colors
Edible embellishments, such as sprinkles
Directions
Carefully use a rolling pin to flatten the rice crispy treats until they are about ¼-inch thick. Then cut out 6-by-6-inch squares of the rice crispy treats.
Shape your maracas by using a muffin tin as a guide, creating a bowl with each rice crispy square.
Scoop about 1 tablespoon of mini candies into each "maraca" bowl.
Gently seal the maraca edges by pressing the ends together around one large pretzel rod, using melted chocolate as "glue" to hold the rice crispy treat and pretzel together.
Time to decorate! Drizzle melted chocolate as decoration or use it to adhere sprinkles to your maracas.