Sand Handprints
Think outside the sandbox! Create a long-lasting keepsake (or gift!) with this simple, homemade sand clay recipe.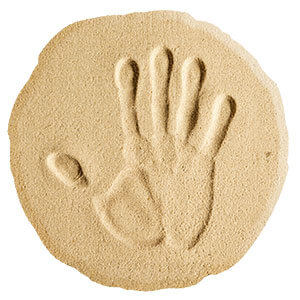 Materials
2 cups sand
1 1/2 cups plain, all-purpose flour
1 1/4 cups salt
1 cup warm water
Small seashells (optional)
Directions
Combine the sand, flour, and salt in a medium bowl.
Slowly add the water, stirring with a large spoon until a dough forms.
Take the dough ball out of the bowl and gently knead it into a ball on a lightly floured surface.
Split the dough into four chunks and gently roll each portion into a circle on a large baking sheet, about 2 centimeters thick.
Have you child gently press their hand into the center of the round dough, pushing each finger down firmly, then carefully lift their hand.
If desired, embellish the outer edges of the disc with miniature seashells.
To dry, bake the sand clay discs at 250°F for about four hours.
Creates four sand clay discs.