Sombrero Cookies
With family reunions, graduation parties, and Cinco de Mayo this month, what better way to celebrate than with sombrero cookies? These cookies are so quick and easy, even the kids can help decorate!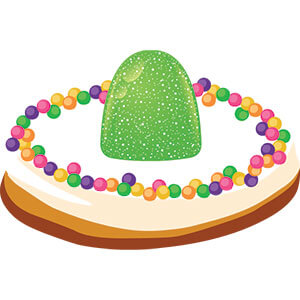 Ingredients
Sugar cookies (bigger cookies work best)
Frosting
Sprinkles
Spice drop candies
Icing squeeze bottle
Directions
Pour a good amount of sprinkles onto a plate. Warm up the frosting for about 10 seconds; stir. Then microwave for another 5-10 seconds. Pour the warmed-up frosting into the icing squeeze bottle. Pipe a circle of frosting around the outside of the cookie, then place the cookie upside down on the plate of sprinkles. Turn the cookie back over, and place a small dot of frosting in the center of the cookie. Add one spice drop candy on top of the frosting. Add more frosting around the edge of the candy and cover the frosting with sprinkles. Shake off the excess.