Soup Can Bowlin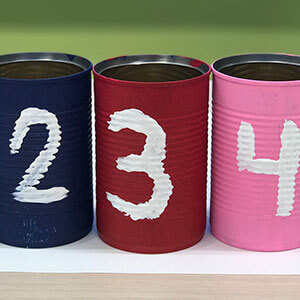 Materials
Newspaper
5 empty soup cans
Paintbrush
5 different colors of acrylic paint
Gloss sealer
Ball
Directions
Lay down some newspaper and paint the soup cans with whatever designs you'd like!
Once the initial layer of paint dries, label each can numbers 1 through 5.
Once the cans dry again, coat them in a gloss sealer to prevent them from chipping.
Set up the cans in a triangle and start bowling! Any ball will work—the larger the ball, the easier the game.