Valentine Suncatcher
DIY aficionados of all ages will enjoy making this heart-shaped suncatcher, just in time for Valentine's Day!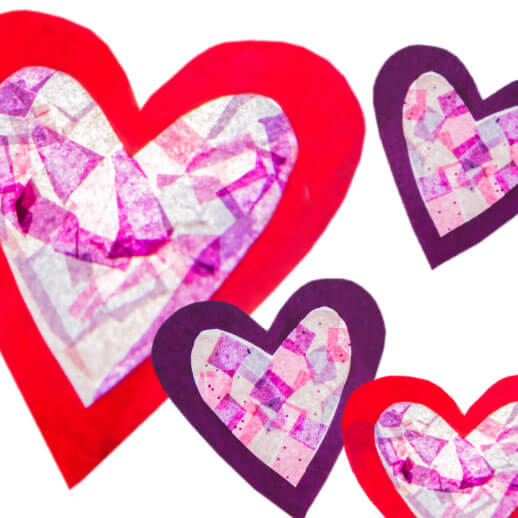 Materials
Red or pink construction paper
Scissors
Wax paper
Marker
Colored tissue paper (e.g., purple, pink, red, and white)
Glue stick
Glitter, sequins, or other flat embellishments
Ribbon or string
Directions
Create a heart-shaped frame out of construction paper by folding the sheet in half and cutting out a large heart and then a smaller heart out of the middle to make a window.
Trace the heart onto a piece of wax paper and trim off the excess.
Time to decorate! Glue pieces of colored tissue paper (either cut or torn by hand) onto the heart-shaped wax paper—it is okay for the pieces to overlap. Glue on any additional embellishments or glitter at this time.
Carefully glue the heart-shaped frame on top of the decorated piece of wax paper.
Poke a small hole at the top of the heart, tie a piece of string through the hole, and hang your Valentine suncatcher in a window.