Button Cookies
Given this month's curriculum on clothing, it's the perfect time to bake up a pan of cute little Button Cookies with licorice laces. This easy-to-make sugar cookie recipe is sure to satisfy any sweet tooth.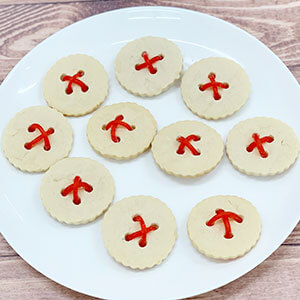 Ingredients
3/4 cup butter
1 cup powdered sugar
1 egg
1 teaspoon vanilla extract
2 1/2 cups flour
1/4 teaspoon ground cardamom
1/4 teaspoon salt
Pull-and-peel licorice
Food coloring (optional)
Directions
Soften butter and combine it with powdered sugar until fluffy. Add egg and vanilla extract and beat until mixed well. In another bowl, whisk flour, cardamom, and salt. Add dry mixture to creamed mixture. If you'd like to color your cookies, divide dough into portions and tint each portion with your selected color(s). Refrigerate covered dough for two hours.
Preheat oven to 350°F. Lightly flour a surface and roll dough until thin. around 1/4-inch thick. Cut cookies out of dough with round cookie cutter and place 1 inch apart on an ungreased baking sheet. Bake for 10-15 minutes or until lightly browned. Use a plastic straw to cut four holes in the middle of each cookie to resemble the holes in a button. Cool and lace licorice through the holes of each button.