Strawberry and Pudding
Prepare a fun, flowery summer snack with this Strawberry and Pudding Flower Pots recipe!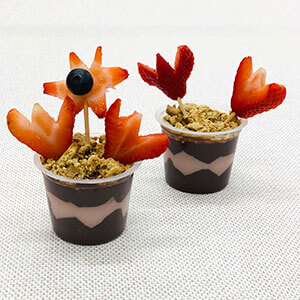 Ingredients
Graham crackers
Chocolate pudding cups
Strawberries (or other fruit of choice)
Wooden skewers or toothpicks
Directions
Crush the graham crackers to resemble dirt and set aside.
Slice your strawberries, using a knife to cut small triangles out of the wider end of each strawberry to create a shape resembling a tulip.
Insert your wooden skewer or toothpick into the other end of each flower to create a stem.
Open your pudding snack cups and sprinkle a layer of your graham cracker dirt on top.
Add your fruit flowers and enjoy!